Concerned Citizens for Saratoga Racing Preparing to Fly
Whoa Cuomo Banner During Travers Broadcast
Saratoga Springs, NY – The Concerned Citizens for Saratoga Racing has secured a banner that reads "Whoa Cuomo" to be flown over the Saratoga Race Course, on Saturday, August 27, as a crowd of 50,000 gathers for the 147th running of the Travers Stakes.
The Travers features a field of 14 of the best horses and jockeys in the world and will be televised live on NBC. The flight is scheduled to take place prior to the Travers, during the 90 minute live broadcast. The Concerned Citizens for Saratoga Racing has also placed a "Whoa Cuomo" billboard on the I-87 Northway and has distributed "Whoa Cuomo" lawn signs which appear in areas all across the City of Saratoga Springs.
The group invited Governor Andrew Cuomo to visit the Saratoga Race Course during the 2016 race meet. In the invitation, they urged him to spend time with local breeders and to tour the backstretch to meet with workers, jockeys, trainers and owners. They sought to use a visit to demonstrate to him in person how the most successful race meet in the US is run and the excitement that is generated during the 40 days of racing in the local Saratoga Springs community.
After today, the group noted that the Governor will have missed the first 30 days of the 2016 Race Meeting. He has not attended a race meeting, in Saratoga, since he was elected Governor in 2011. This means Governor Cuomo has missed 230 consecutive days of racing in Saratoga over the last five years. The meet will end on Labor Day, September 5, 2016.
Governor Cuomo should visit Saratoga
Two weeks before the start of the 2016 Race Meeting in #Saratoga, we invited Governor Cuomo to spend one of the 40 days of the meet touring the race course, backstretch and a local breeding farm to see why we want to end government control over NYRA. We know that his staff has seen and read our letter but he's yet to send us a response. So now we're asking everyone to help us encourage Governor Cuomo to visit Saratoga.
Please
click here to sign our petition
inviting Governor Cuomo to visit Saratoga. Once you sign the online petition, you can also share the petition with your friends and followers via social media or your contacts via email. For Governor Cuomo to say he knows what is best for Saratoga - - when he hasn't visited the track or talked with local stakeholders - - is like a first-time passenger telling the pilot how to fly the plane. We think it is time for him to see first hand in person what the fuss is all about!
Gov. Cuomo invited to 2016 Saratoga Race Meeting
July 12, 2016

The Honorable Andrew M. Cuomo
Governor of New York State
NYS State Capitol Building
Albany, NY 12224

Dear Governor Cuomo:

We are writing to invite you to visit the Saratoga Race Course during the upcoming 40-day Race Meeting which begins on Friday, July 22, and ends on Monday, September 5, 2016.

As you know, the Saratoga Race Course is a national treasure and a significant economic engine for the Capital Region. We believe your understanding of just how special our race course is to our community, this region and the Thoroughbred horse racing industry in New York and the US will be dramatically enhanced by such a personal visit.

We'd like to spend some time with you at the Saratoga Race Course watching a couple of races. This historic setting offers everyone a special opportunity to explain why we feel so strongly that NYRA should be reprivatized as a private not-for-profit corporation without altering the franchise agreement. This visit will allow you to see and hear the excitement that builds within this sports and entertainment venue as each race starts and the winners come to the finish line in front of thousands of fans of all ages.

We'd encourage you to make time as well so that we can bring you around the grounds of the Saratoga Race Course where you'll be able to see what we are doing to improve the living conditions of backstretch workers. We'd like the opportunity to introduce you to some of the legendary trainers, owners and jockeys who could race anywhere but choose to spend their summers here in Saratoga. If time permits, a tour of a local horse farm as well as an equine hospital will demonstrate how we breed and care for our equine athletes here in Saratoga.

We have 40 days this summer to make this visit happen. If you accept, we will be sure to include our local legislators in these tours, meetings and discussions. Please have your office give us a call at 518-584-3255 to work on setting this up. Come spend some time with us this summer, in Saratoga - The Summer Place To Be, and see for yourself what all of the fuss is about!

Sincerely,

Todd Shimkus, President, Saratoga County Chamber of Commerce

Sincerely,

Maureen Lewi, Chair, Concerned Citizens for Saratoga Racing


Fool us once, shame on you. Fool us twice...No Chance
Robert F. Mujica, New York State Budget Director,
published a letter in today's Saratogian
attempting to defend Governor Cuomo's efforts to extend public control over New York's Thoroughbred horse racing industry. Here's our response:
We read the Governor's proposal. So did the Assembly and the Senate. The Assembly and Senate voted to support the bipartisan plan our local legislators authored and they took no action on the Governor's plan. Just one person stood in the way of an agreement and that was the Governor.If the Governor had a plan that is great for racing, they would have released their plan a long time ago and asked stakeholders within the industry for input. Their plan was released just days before the end of the legislative session. They kept their plan secret because it is not a great plan for racing.The director says their approach "guarantees revenue" for Saratoga. What happened to the guarantees included in the Franchise Agreement? To make this latest "guarantee," the Governor is breaking another one. If we let them alter the Franchise agreement one day, what will stop them from altering this new agreement the next?The Governor's plan ignores the agreement put in place by New York State and NYRA which was approved by the Federal bankruptcy court. The State secured $1 billion in land in return for specific percentages of revenue from a privately operated VLT at Aqueduct to support purses, capital improvements, operations and the breeding fund. It is like a mortgage payment.Lastly, we're ready today to sit down with the Governor to discuss how to proceed. If the Governor is serious about protecting our national treasure, let's get together right away to draft legislation which can then be acted on as early in the 2017 legislative session as possible.
Maureen Lewi, Chair, Concerned Citizens for Saratoga Racing
Todd Shimkus, President, Saratoga County Chamber of Commerce
Statement from the Concerned Citizens for Saratoga Racing 6-20-2016
The Concerned Citizens for Saratoga Racing will not be deterred in our efforts to see that NYRA is reprivatized as a private not for profit corporation. While it is clear this will not happen in 2016, we will look for every opportunity to advance our cause and to advocate for this outcome.

We hold Governor Cuomo solely responsible for the failure to secure approval for a reprivatization plan this year. He promised, in 2012, that state control over NYRA would be temporary and he has failed to keep this promise. His insistence on instituting excessive controls over NYRA management and seeking to transfer millions of dollars in VLT revenues away from our horse racing industry was the only barrier in the way of an agreement being reached this year.

We thank Senator Marchione and Assemblywoman Woerner as well as the New York State Senate and Assembly for the timely passage of legislation to reprivatize NYRA. By taking this action, they openly defied the Governor and days later refused to even consider the Governor's misguided proposal.

We anticipate getting back to work very soon with our local legislators with a goal of moving legislation to reprivatize NYRA early in the 2017 legislative session. We will share information about our efforts on this web page. We also want to invite EVERYONE who is concerned about the future of the Saratoga Race Course and our state's Thoroughbred horse racing industry to sign up on this page and support this cause. #WhoaCuomo


Lawmakers Defy Cuomo, Pass NYRA Legislation
Reprinted from the Bloodhorse
www.bloodhorse.com

Written by Tom Precious
Date Posted: 6/15/2016 3:12:00 PM
Last Updated: 6/15/2016 5:49:17 PM
Defying Gov. Andrew Cuomo, New York lawmakers June 15 gave final approval to legislation that would return the New York Racing Association to private control after a four-year period in which the organization's board of directors was dominated by appointees of the governor.
The matter, though, is far from resolved, as the legislature is scheduled to end its 2016 session June 16. The session could extend through June 17.
Several key lawmakers said they won't support a bill introduced by Cuomo that gives him sizeable influence over a new NYRA board and would cap the annual revenue NYRA receives from video lottery terminals at Aqueduct Racetrack. Lawmakers said the Cuomo proposal amounts to a $14 million to $16 million a year reduction in revenue.
On the table, lawmakers said, is a plan to simply extend the current board structure for another year. Without it, they claim NYRA would face a governance crisis when the term for the existing NYRA board expires later this fall.
Cuomo in 2012 pushed through a plan to give him control of a majority of board appointees. The Assembly and Senate June 15 passed a bill that creates a 15-member board, with two appointees by the governor; one each by the heads of the Senate and Assembly; one each by the New York Thoroughbred Horsemen's Association and New York Thoroughbred Breeders; and eight selected by the executive committee of the current NYRA board. The 15th member would be the NYRA president.
"Let him veto it and then we'll deal with the one-year extender," said Sen. John Bonacic, chairman of the Senate Racing, Wagering and Gaming Committee.
Bonacic said he expects a one-year NYRA extender bill to emerge and be approved before lawmakers end the session. He called the Cuomo plan to cap VLT proceeds to NYRA "not acceptable to the racing industry," which he said supports the one-year plan as a way to block Cuomo's proposal from being adopted.
The Cuomo administration has said its plan is needed to give the state a role in NYRA's future and to provide "reasonable public safeguards befitting a private, not-for-profit corporation charged with fulfilling an entirely public mission."
Saratoga Springs citizens accuse governor of breaking racing promise
Reprinted from WNYT
http://wnyt.com/news/saratoga-concerned-citizens-urge-governor-cuomo-to-give-control-of-nyra-back-to-nyra/4170366/

Posted at: 06/15/2016 6:00 PM
Updated at: 06/15/2016 7:30 PM
By: Mark Mulholland
SARATOGA SPRINGS ­ There were several dozen people, many of Saratoga's well­known, chanting "Whoa Cuomo," a horse racing reference, urging Governor Cuomo to give up the reins to the New York Racing Association. The Governor took control of NYRA four years ago, saying at the time, the state would take over for three years and then return the organization that runs Saratoga, Aqueduct and Belmont to a private, not­for­profit.
But the people gathered here say the Governor has no plans to keep his promise and instead wants to keep NYRA under state control.
"The Governor never intended to keep his promise and it hurts me to say that because my wife is a very close friend of Matilda Cuomo," said John Hendrickson, husband of Marylou Whitney,
and until recently a governor­appointed member of NYRA's advisory board. "We will look at every and all avenues we have to make sure we advance the cause of making
sure Saratoga Race Course and the thoroughbred racing industry is successful for years to come," said Todd Shimkus, a leader of Concerned Citizens for Saratoga Racing and president of
the Saratoga County Chamber of Commerce.
One after another, a dozen people stepped to the mic to urge the Governor to sign legislation passed Wednesday afternoon by the Senate and Assembly to re­privatize NYRA, give locals a
seat on the board and keep revenue from VLTs flowing toward racing. VLT money is supposed to be going to NYRA in exchange for its handing over of $1 Billion in land on which the tracks operate.
They say the governor wants millions in VLT money to go in the state's general fund.
"Horse racing is not a hobby. Horse racing is an industry," said former NYRA announcer Tom Durkin as he urged state government to return NYRA to a private not­for­profit board with local
representation.
Governor Cuomo's Spokesman Rich Azzopardi says, "The Governor and the Legislature saved NYRA from yet another bankruptcy in 2012 and installed a Board and management team that,
by every metric, has been a success. We seek to continue this progress."


Whoa, Gov. Cuomo! Stop Running From Your Promises!

'Mr. Cuomo stressed that the state takeover was designed to be short-lived, and last no longer than three years.'— New York Seizes Control of Horse-Racing Board
The New York Times, May 22, 2012


We are very concerned about the future of horse racing.

Gov. Cuomo signed an agreement in 2012 limiting state control over horse racing in New York to just three years.

Now he is running from his promises.

Four years have passed, and horse racing is still controlled by state government.

Gov. Cuomo says he'll consider keeping his word -- as long as he retains excessive public control over a not-for-profit corporation and can strip racing of critically important funds owed by the state.

It's time for New York horse racing to be run again by a not-for-profit entity made up of people who are committed to the long-term success of horse racing in New York – individuals predominantly from the private sector who know racing and have devoted their lives to it.

And there's another agreement that must be upheld: In 2008, New York Statecommitted to share casino proceeds with horse racing. NYRA turned over ownership of its three tracks and properties at Saratoga, Belmont and Aqueduct -- worth $1 billion – and the state committed to making what amounted to mortgage payments using the casino revenues.

The state Comptroller says these revenues are critical to the financial stability of the New York Racing Association. They help pay for investments in preserving the historic Saratoga Race Course; providing safe and appropriate housing for backstretch workers, and boosting the purses that attract the best horses – and the huge crowds that follow them.

New York thoroughbred racing is a treasure, the envy of the horse racing world. The summer meet in Saratoga alone has a $237-million regional economic impact, helping not just breeders, trainers, jockeys, owners and fans but struggling family farms across Upstate New York and people who work at the track and in our hotels, restaurants, shops, and local communities.

When Saratoga thrives, we all win. It's another sign that New York is truly open for business.

To ensure a bright future for horse racing, the people who know horse racing best should run horse racing.

And the revenues legally owed horse racing must go to horse racing.

Gov. Cuomo, We're Counting On You to Keep Your Promises.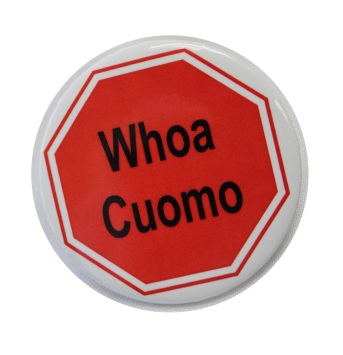 #WhoaCuomo Buttons and Lawn Signs

Show your support for the #WhoaCuomo movement to end government control of Thoroughbred horse racing in NY. Visit the Saratoga County Chamber of Commerce at 28 Clinton Street, in downtown Saratoga Springs, NY, to pick up a button or lawn sign today.


#WhoaCuomo Rally Videos

Below are several videos below from our #WhoaCuomo rally on June 15, 2016. After this rally, the New York State Senate and the Assembly passed bipartisan legislation to reprivatize NYRA as a not for profit corporation. The videos feature: Heather Coots, an excercise rider; Tom Durkin, a legendary horse race announcer; and Jack Knowlton, of Sackatoga Stables.

What we stand for!

Nestled in the heart of one of Upstate New York's most vibrant cities, the Saratoga Race Course is the oldest sporting venue in the United States. Each year, horse racing's best make a pilgrimage to Saratoga for what is the most popular Thoroughbred horse racing meet in the world.

The members of the Concerned Citizens for Saratoga Racing have come together over the past decade when actions in Albany have threatened the future of the Saratoga Race Course and this vital engine to our local economy. Our members include farmers, bankers, hoteliers, small business owners, chiropractors, horse racing fans and residents who love living in Saratoga. We are united by a desire to ensure that this historic venue and this amazing sport thrives for generations to come right here in Saratoga Springs, New York.

Please complete the form below to join our #whoacuomo movement as we seek support for legislation that will reprivatize NYRA as a not for profit corporation. We will reach out to you via email with more details and specific ways you can help us. Thanks!






"We know that long term this is not a venture for government to run,"


Gov Cuomo to the NY Times.




Let Governor Cuomo know we're counting on him to keep his promises!

Tweet: @NYGovCuomo Tell him to keep his promises to horse racing. #whoacuomo.

Facebook: Tell your friends to visit www.saratoga.org to learn more about how they can help us ensure Governor Cuomo keeps his promise to horse racing. #whoacuomo