Saratoga Springs and Saratoga County, NY — Easy to reach. Always exceptional!
Spas, Health, Relaxation
It was our naturally flowing, carbonated springs that over a century ago first brought visitors here in droves. This included the rich and famous who wanted to 'take the cure' in the healing waters. Today, you can too. Guided and self-guided tours are available.
View more info
.
Outdoor Enthusiasts' Paradise
Our lakes and rivers, as well as our state's canal system, offer extraordinary opportunities for fishing, sailing, kayaking, rowing, swimming and boating. The Adirondack mountains and trails offer lots of hiking, biking, and climbing! And our parks and gardens are a walker's and picnicker's paradise.
View more info
.
Saratoga Race Course
The oldest, continually operating horse track in the country has been attracting famous and infamous high rollers since the late 1800's. It also continues to attract the country's biggest names in racing. In 2015, the Summer at Saratoga Race Meet will take place from July 24th to September 7th.
View more info
.
Saratoga Performing Arts Center
Celebrating its 50th Anniversary Season, this world-class outdoor amphitheater serves as the summer home of the Freihofer's Saratoga Jazz Festival, New York City Ballet, The Philadelphia Orchestra, and Live Nation concerts. SPAC is also home of the Saratoga Wine & Food Festival and The Chamber Music Society of Lincoln Center in the Spa Little Theatre.
View more info.
Rich History
We're home to many national, state and local museums. You can even hike, bike or drive the beautiful Saratoga National Historical Park, where the Turning Point of the American Revolution occurred during The Battles of Saratoga. Or include a visit to Grant Cottage, where Ulysses S. Grant wrote his memoirs.
View more info
.
Grand Architecture
A stroll down Broadway in Saratoga Springs will take you back in time, as you admire the grand historic structures with beautifully preserved ornate architectural details. Dozens of the majestic homes and buildings in the downtown are listed on the National Register of Historic Places and Landmarks.
View more info
.
Take in a concert or ballet at
Saratoga Performing Arts Center (SPAC),
New York's finest event venue.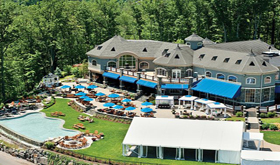 Enjoy a round of golf at this premiere championship golf course, superbly conditioned and fun to play.


Experience the country's oldest and most beautiful race track, and see world class thoroughbreds in action.


Summer at Skidmore is filled with
Music, Dance, and Art events
and its famous writer's workshop.



Be a winner while playing the
industry's hottest games. And enjoying
live racing and entertainment.



Be where all the action is while enjoying
all the amenities and attention to service
of this upscale hotel.



Have it all, from heated pools and
comfortable accommodations to delicious dining - right where the action is.



Feel the peacefulness and enjoy the
beauty of a stay in the Saratoga State Park, with golf and a spa nearby.



Imagine walking to all the restaurants,
cafes, and great nightlife, while staying
where you'll feel completely pampered.



Nurture yourself with nature-inspired therapies, authentic healing waters,
and attentive expert care.



Spring, Summer, Fall, or Winter. There
is always something exciting to do!
Take a look at all we have in store for you.


Win fabulous trips and prizes! We'll help
make your Saratoga dreams come true.
No purchase necessary.



You won't go hungry in Saratoga with over
100 restaurants to choose from
across the county. Offering mouth-watering fare and fine wines and craft beers to please every palette with endless options and cuisine from around the globe. Choose from Thai to Italian, German to American, Indian to Irish, French to Mexican, steakhouse to vegetarian, pizza to ice cream and so much more. Our award-winning eateries will suite for any occasion with delis, fining dining, pubs, coffeehouses, bakeries, wine bars, jazz lounges, tea houses and bars. Saratoga has it all.
Saratoga's own Chef Jasper Alexander from
Hattie's Restaurant
beat Bobby Flay in his Fried Chicken Throwdown. Several Saratoga favorites have received Wine Spectator Magazine Award of Excellence, including
Chianti II Ristorante
,
Longfellows
, The
Olde Bryan Inn
,
Prime at Saratoga National
,
Sperry's
,
Wheatfields
, and
The Wine Bar
. Your meal is always enjoyable with many establishments offering year-round entertainment, especially on those hot summer nights when outdoor patios and rooftop terraces come alive with music. All of this lends itself to an unbeatable atmosphere and ambience for some of the best nightlife around and a not-to-be-missed dining experience.
Plus, Saratoga is home to food events and festivals throughout the year, including Saratoga Restaurant Week, Chowderfest, BBQ and Dessert Fest during the
All-American Celebration
and
Saratoga Wine & Food Festival
.
Hit the links at one of Saratoga's award-winning golf courses. Visitors will find golf for all ages and abilities from the fun Par 29 in the
Spa State Park
to the challenging and breathtaking
Saratoga National Golf Club
, the unique air strip at
Airway Meadows
to the secluded, hilly terrain at
Saratoga Lake
. Golfers will love to tee off in Saratoga.
Saratoga's landscape also lends itself to bountiful outdoor recreation for all skill levels. With thousands of acres in National, State and local parks and preserved lands, as well as multi-purpose and nature trails, there are miles of terrain to concur on foot or by bike. Saratoga National Historical Park (SNHP) has over 4 miles of hiking trails through the rolling battlefield and countryside, plus a 10-mile tour road with bike access that adds to a fun road ride loop from downtown. Saratoga PLAN is a nonprofit land trust that focuses on preserving land and nature throughout Saratoga County and connecting people to the great outdoors through an extensive trail system and 12 public nature preserves. Saratoga offers both road and mountain biking for every outdoor enthusiast with designated bike routes throughout the county, along waterways, over rolling countryside and by scenic farmland.
Wednesday, November 15, 2017
4:05 PM
The Saratoga Casino Hotel recently received the prestigious 4-Diamond Hotel rating from AAA.
---
Thursday, November 9, 2017
1:28 PM
The Saratoga Automobile Museum's highly-anticipated "Weels at Work" exhibit will formally open Friday, November 10th at 6 p.m.