#ILoveSaratoga 2017 Summer Sweepstakes
Our Summer 2017 Sweepstakes winner
is Laura R. from Rochester NY!


Thanks for participating in our
2017 Ultimate Summer Sweepstakes
"72 Hours in Saratoga!"
4 Day/3 Night, Jam-Packed, Fun-Filled Vacation for 2 in Saratoga Springs.



Worth More Than $2,500

Is there a better place to be than Saratoga in the summer? We don't think so.
World class horse racing, beautiful golf courses, ballet, orchestra and big name rock 'n roll concerts.
We've got it all. Plus so many great restaurants, inns and hotels.


The Sweepstakes in now closed.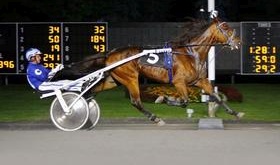 Your Sample Itinerary

DAY 1:

12 noon:
Arrive and Settle In
Stroll downtown and check out the coffee shops, bookstores, bakeries, bars, clothing stores, gourmet food shops and much, much more.

7 PM: A Foodie's Idea of Heaven

For dinner, you'll find an amazing variety of restaurants -- from brew pubs and cozy bistros to fine dining.

10 PM: Tap, Clap, Stomp, or Sway the Night Away

Complete the night by enjoying one of the many places where music is played, from rock and jazz bands to folk and piano players.

DAY 2:

8 AM:
A Galloping Breakfast
Head out for the track on Union Avenue, and get your fill of eggs on the Clubhouse porch, while watching the horses go through their morning workouts right in front of you. It's an experience like no other.
9:30 AM: The Good Life


Saratoga is a beautiful course in American architectural history. Check out the homes on Union Avenue near the track or, back in town, go walking up North Broadway. If walking is your thing, but maybe not architecture, go to Saratoga Spa State Park on the edge of town and walk the stately Avenue of the Pines.
Noon: Get Fortified
Back along Broadway, have lunch at one of the many outdoor cafes. Enjoy a bite to eat while people-watching the bustling pre-race crowd. This is a busy time in town, and it can seem like people have arrived here from all over the country. Because they have!


1 PM: And They're Off!
The country's oldest thoroughbred racecourse opens its doors at 11 AM, and you'd be amazed by how many people are waiting to get inside at that hour. But the first race doesn't go off until 1. Don't forget your binoculars. All the better to see the spectacle of the finest thoroughbreds in the country.
7:30 PM: An Enchanted Evening
There are so many choices for dinner in Saratoga, from Thai to Italian, German to American, Indian to Irish, French to Mexican, steakhouse to vegetarian. But the racing crowd is a hungry and thirsty bunch, so make your reservation ahead of time, and then sit down to a meal to remember.
9:30 PM: Paint the Town Red


In its glory years of the 1920's and 30's, Saratoga was said to have more bars per capita than any other city in the nation. Let's just say the place hasn't changed all that much. Once the sun goes down, Saratoga nightlife is where it's all happening.


DAY 3

9:00 AM: Taking It Easy
Head out together or separately to play golf or get a massage and mineral bath. For the golfer, Saratoga National offers a championship caliber track, with all the amenities of an upscale club, ensuring one fine morning. While over at Roosevelt Baths & Spa, you'll be relaxing in the healing waters, under attentive expert care.
Noon: Revving Up
Saratoga Casino and Raceway has it all – delicious dining options, exciting slots and fun electronic table games. Later on, make your way up beautiful North Broadway to the Skidmore College Tang Museum to take in its though-provoking exhibits.

6:00 PM: Grab a Quick Bite


You don't have a lot of time to waste--you've got places to go and things to do! You have two dining options, so you'll need to plan quickly. You can grab a quick dinner. OR. Pack a picnic to enjoy at SPAC. Either way, head off to one of the many quick-serve (not to be confused with fast-food) and delicious eateries such as PJ's BAR-B-QSA, Phila Fusion Noodle Bar, Esperanto, or Comfort Kitchen, to dine in or take out.


7:30 PM Arrive at Saratoga Performing Arts Center

Whether you decide to take in the concert on the lawn or inside, you can't go wrong. Affectionately known as SPAC, this is one of the most beautiful outdoor amphitheaters in the country.

DAY 4

Daydream Believer

Big decision for the day is whether to linger in bed or head out for brunch. Either way, you'll find yourself already making plans for your return visit, realizing there is so much more to come back for.

2017 Summer Sweepstakes Vacation Includes:


Day at Saratoga Race Course including reserved seating and Turf Terrace dining for two.

Round of Golf at Saratoga National Golf Course for two.

Deluxe Room Accommodations for three nights.

Two SPAC tickets for classical performance subject to availability.

Dinner for two at Prime.

Spa experience including Saratoga mineral bath and massage for two.

Saratoga Casino & Raceway dinner buffet for two.

Sumptuous Gift Basket full of Saratoga specialties.
Prefer a Sure Thing? Check out one of our
SPECIAL SARATOGA PACKAGES
Let us be your concierge!

* All packages are customizable.
We've got it all! Golfing, horse racing,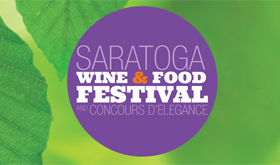 Get away for one of Saratoga's
exciting events, including
Chowderfest, First Night,
the Jazz Festival
and more!
Need a special get-away?
Grab your partner and come along!
Have we got some
great options for you!
Get notified by email when our next Saratoga Extravaganza Sweepstakes opens!