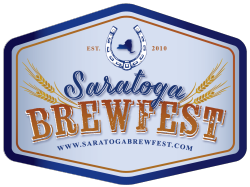 Upstate New York's biggest and best craft beer festival is just around the corner! Join us for the 7th Annual Saratoga Brewfest on Saturday, May 20th at the Saratoga Race Track from 2PM to 5PM.
Enjoy unlimited sampling of more than 160 craft beers from 80+ of the country's best craft breweries! Looking for some special treatment? Grab yourself one of the limited VIP tickets and have the chance to sample limited quantity rare brews, meet the brewers and enjoy an extra hour of fun. As always there will live music, various vendors and tons of delicious food!
Music: Radio Junkies will be playing throughout the festival. Rock out with these local favorites while sipping brews from across the nation.
Food: Serving up some incredible food including homemade gourmet meatballs, subs, kabobs, in a boat a variety of panzerotti from Sebastino's, wings from Lilas Laid Back BBQ, burgers from Burger 21, nuts from Bavarian Nuts, and other treats from Dinosaur BBQ, Oliver's Café, and Sammy's Country Wagon.
Games: Awesome activities to test your skills while you sip the day away. Find a friend and partake in a bit of friendly competition over a game of Kan Jam, Ladder Golf, Corn Hole, Crown Hole (a cross between corn hole quarters) or Beer Pong!
For more information and tickets, go online to
www.saratogabrewfest.com
.